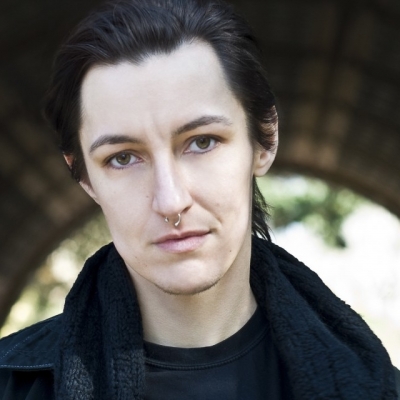 C. Bain
C. Bain is a gender liminal multi- and inter-disciplinary artist based in Brooklyn.
Recent acting work includes Marian: the True Tale of Robin Hood  (Flux Theater Ensemble), Future St., (Alexandro Segade), and collaborations with New York Shakespeare Exchange, Threadbare Theater Workshop, Honest Accomplice Theater, Man Question, and other NYC-based companies.
As a writer, his book of poetry Debridement was a finalist for the Publishing Triangle Awards. His plays have been performed at The Kraine, The Tank, Dixon Place, and at the Living Gallery. He has poetry and essays published in them., theRumpus.net, PANK, BOAAT, Muzzle Magazine and elsewhere. He has a long history in poetry slam and has shared stages with Jim Carroll, Patricia Smith, Dorothy Allison, and Saul Williams.