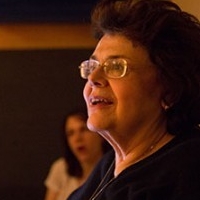 Caymichael Patten
Caymichael Patten has taught private, professional acting classes in New York City for forty years. She is a graduate of Albion College and an alumnus of Great Lakes College Association New York Fine Arts Program, where she also served as a member of the Board of Advisors for three years. Ms. Patten studied professionally for three years with Wynn Handman, was the Casting Director for The American Place Theatre, and has taught at The Michael Howard Studios. She also taught at The Actors Center, where she is an Honorary Member of the Board. She opened her own acting studio in March, 1988. Ms. Patten has taught a week-long Master Class at American Conservatory Theater in San Francisco for the past fifteen years and currently teaches Acting for the third year MFA students at The New School. 
Ms. Patten has directed extensively in New York City, enjoying particularly working at some of the city's finest Off-Broadway institutions: The Manhattan Theatre Club, The Circle Repertory Company, The WPA, Playwright's Horizons, The American Place Theatre, The Second Stage and The Women's Project.  These are some of the original New York productions she has directed: Rapmaster Ronnie by Elizabeth Swados and Garry Trudeau, A Think Piece by Jules Feiffer, A Foot in the Door by Bruce Jay Friedman, Hold Me! by Jules Feiffer, Lady With A Braid by Dory Previn, Jacob's Ladder by Barbara Graham, Conversations with Don B. by Donald Barthelme, and Beautiful City by George F. Walker.  Several of the above were pieces that she adapted for the stage, some in collaboration with the author, some alone. Ms. Patten has also done many revivals in the city and productions outside New York.  Among her favorites, Bits and Pieces by Corrinne Jacker,  La Turista by Sam Shepard, Uncle Vanya, Twelfth Night, and Much Ado About Nothing.
Ms. Patten was Founder and Artistic Director of two theatre groups, most recently, The Company Theatre here in New York and The Children of Warren G. Harding, a theatrical company who performed Shakespeare and Sam Shepard in a reconstructed radio theatre in downtown Detroit.  She also led a small repertory company in the pieces she adapted and directed for the Humorists Series at The American Place Theatre.  Ms. Patten was a founding member of The Women's Project and a member of their Board of Advisors.