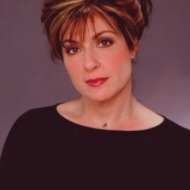 Caroline Aaron
Caroline Aaron is a professional actress who is known to theatre, film and television audiences as well as a published author and playwright.
Caroline made her Broadway debut in Robert Altman's "Come Back to the Five and Dime, Jimmy Dean, Jimmy Dean" and later appeared in the film. The following Broadway season, she starred in the Jose Quintero/JasonRobards' revival of "The Iceman Cometh". She next starred in Mike Nichols's Broadway smash comedy "Social Security". Mr. Nichols first directed her on film in "Heartburn". She re-teamed with Mr. Nichols for "Working Girl", "Primary Colors",and "What Planet Are You From?" She returned to Broadway starring in "I Hate Hamlet." She headlined the west coast premiere of Wendy Wasserstein's "The Sisters Rosensweig" and was acknowledged with both a Helen Hayes and Dramalogue Award. Most recently she starred on Broadway in Woody Allen's comedy "Honeymoon Hotel". Recently  she starred In Lincoln Center's award winning play "A Kid Like Jake." She played the title role in "All The Days" at the McCarter Theatre and was named best actress by several newspapers in the New York/New Jersey area.
On film Caroline is a frequent collaborator with Woody Allen. She played his sister in "Crimes and Misdemeanors". She also worked with Woody Allen in "Alice", "Bullets Over Broadway", "Husbands and Wives", and again played his sister in "Deconstructing Harry". Film audiences will recognize her as the voice of Dr. Marsha Fieldstone in "Sleepless in Seattle." She also starred in Kevin Spacey's film "Beyond the Sea". She has appeared in over a hundred films. They include 21 & 22 Jump Street, The Rewrite, Just Like Heaven", "Nancy Drew", "Surveillance", "Love Comes Lately", "Edward Scissorhands, "Anywhere But Here", The Big Night", and "Bounce" among many others.
Television audiences are also familiar with her work. A partial list of her television appearances include Secrets and Lies, The Millers, "Grey's Anatomy", "Private Practice", all the "CSI's" all the "Law & Orders", Two Broke Girls,, "Sex and The City", and "Curb Your Enthusiasm." Most recently she guest starred on "Madam Secretary" and "The Good Life". Recently she recurred on "Episodes" as Matt LeBlanc's stepmother, Transparent, and is Shirley Maisel in the hit Amazon series The Marvelous Mrs. Maisel.
Caroline began writing several years ago.  Several of her essays have been published. Her first full length play, 'Such A Pretty Face' has been optioned and her new play 'Unfinished Business' will be workshopped this winter at The Lark Theatre in New York.