The Actors Center relies largely on philanthropic support to fund our programming and advance the artistic development of professional actors. Please consider supporting The Actors Center with a tax deductible donation.
Checks can be made out to 'The Actors Center' and mailed to 520 8th Avenue #312, New York NY 10018.
A Special Thanks to Our Programming Partners: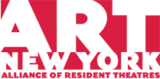 And Our Technology Partners:
THE ACTORS CENTER INC is a non-profit, 501 (c) 3 organization. All gifts are tax deductible to the fullest extent of the law. A copy of our financial statement may be obtained either from The Actors Center, or the Office of the Attorney General, Charities Bureau, 120 Broadway, New York, NY 10271.
QuestionPro supports nonprofit organizations by providing simple yet robust free survey templates to keep in touch with members, volunteers, and donors, understand their expectations and work towards their satisfaction.