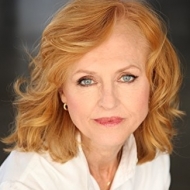 Jill Larson
Jill is most remembered for her portrayal of Opal Cortland on ABC Daytime's All My Children, a role she played for 22 years, garnering her 2 Emmy nominations. She also had longtime recurring roles on One Life to Live and As The World Turns. In Primetime, she has appeared on Vinyl, Law and Order, Desperate Housewives, CSI, Hallelujah, a pilot for ABC, as well as such films as Scorsese's Shutter Island, Ridley Scott's Maine Squall, and Indies; Were the World Mine, The Living Wake, Forever, Viral, and the title role in the horror film, The Taking of Deborah Logan, where she got to drool fake blood and thrash around!
Her theatre credits include Bernard Slade's A Romantic Comedy, Wole Soyinka's Death and The Kings Horseman, and Bill Davis' Dancing in the End-Zone on Broadway, as well as some regional highlights such as Private Lives, Life with Father, Betrayal, Design for Living, The Tempest, The Learned Ladies, Platonov, and the title roles in Agnes of God and Gypsy.
Jill has a BA from Hunter College and is a graduate of the Circle in the Square Professional Theater Workshop.