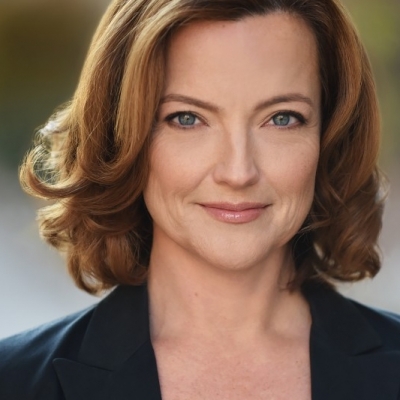 Orlagh Cassidy
Orlagh Cassidy was born and raised on Capitol Hill in Washington DC, the youngest of four children, her parents having settled there after coming from Dublin, Ireland.
Cassidy began her professional acting career at age fourteen, working at The Shakespeare Theatre at The Folger, where she performed the prologue in 'Troilus and Cressida.'  During the spring of her senior year of high school, Orlagh performed in 'Midsummer Night's Dream' and, upon graduating, became an apprentice company member at The Folger for one season.  During this season, Orlagh performed in eight shows a week for ten months in classics by Moliere, Shakespeare, and Chekhov, where she played roles such as Anne Page in 'The Merry Wives Of Windsor' and Anya in 'The Cherry Orchard.' Orlagh also spent a summer studying at The National Theatre in Great Britain.  From there, she went to SUNY at Purchase where she received her BFA along with The Princess Grace Foundation Award.
Cassidy made her Broadway debut in Noel Cowards's 'Present Laughter' with Frank Langella and Alison Janney.  Orlagh's Off-Broadway credits include: 'The Ruins Of Civilization' at Manhattan Theatre Club; 'Bright Ideas' at Manhattan Class Company; 'The Hundred We Are' at Origin Theatre; and the mobile unit production of 'Hamlet' at The Public Theatre.  Orlagh received a Drama Desk Award nomination in 2007 for her role as Maggie in 'The Field' at The Irish Repertory Theatre, where she also appeared in 'The Aristocrats' and 'Dancing At Lughnasa.'  Regionally, Orlagh has performed at theatres such as Hartford Stage, Philadelphia Drama Guild, The Oslo Theatre, and Indiana Rep.
Cassidy has been a frequent guest star on television shows including: 'Homeland,' 'Billions,' 'The Good Wife,' 'Elementary,' 'Veep,' 'Unforgettable,' 'The Mysteries of Laura,' 'Law and Order,' and 'Madam Secretary.'  Orlagh is fondly remembered for her eleven-year run as Doris Wolfe on 'Guiding Light.'  Orlagh's film credits include: 'Beach House,' 'The Sisterhood Of Night,' and 'St. Vincent' with Bill Murray.  Orlagh is also a veteran commercial, television, voice actor, and multiple award winning audiobook narrator.