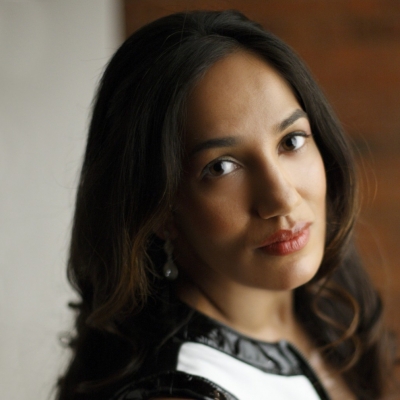 Purva Bedi
 Purva is an actress of film, television and stage and also a deviser of new work.
Purva is best known for her starring role in the cult classic, American Desi, for which she received an Ammy-Award nomination for Best Actress in a Feature Film. Purva's films include Equity, Sully, Kumare (Winner Audience Award SXSW), Cosmopolitan, which was critically acclaimed at numerous film festivals and premiered on the PBS Independent Lens series, Green Card Fever, The Emperor's Club, Wings of Hope, Ball & Chain, Love 'N Dancing, Adjustment Bureau andGoat.
Purva's television credits include High Maintenance, The Code, She's Gotta Have It Too, Madame Secretary, Person of Interest, The Good Wife, Nurse Jackie, Unforgettable, A Gifted Man, The West Wing, Gossip Girl, Cashmere Mafia, Law & Order and Law & Order: Criminal Intent.
In theatre, Purva is an Associate Artist of Target Margin Theatre and a proud member of the Actors Center Workshop Company. She has acted in numerous roles regionally and in New York City including: Dance Nation (Playwrights Horizons), India Pale Ale (Manhattan Theatre Club), An Ordinary Muslim (New York Theatre Workshop), Uncommon Sense(Tectonic Theatre Project), Idiot (HERE), Veil'd (Women's Project), There or Here (Hypothetical Theater), Parts & Parts of Stitches (MTWorks), The Rise of Dorothy Hale (St. Luke's); East is East (Manhattan Theater Club & New Group). As an Associate Artist with Target Margin Theatre: Reread Another, The Tempest, Second Language, Ten Blocks on the Camino Real, Old Comedy, These Very Serious Jokes, The 5 Hysterical Girls Theorem, The Seagull, Sonoma. Purva co-wrote and created Assembled Identity at HERE Arts Center.  
As a producer, Purva was Associate Producer and appeared in Kumare which won the Audience Award for Best Documentary at the prestigious SXSW Film Festival. She Executive Produced the short film Kosu, produced numerous other projects she makes in her spare time with her husband as part of Misanthropictures, and she is Artistic Director and Co-Founder of the not-for-profit New York-based South Asian theatre company Disha Theatre. One film Purva produced and acted in with her husband's company, Daadi, starring Purva's then 92 year old grandmother was a part of the exhibit at the Smithsonian Institute on the history of Indian-Americans in the USA.  Purva has just completed post-production on a web series she co-created with her husband, Shrinkage.
Purva is repped by Artists & Representatives & managed by Sirensong Entertainment. Purva studied at Williams College, The British American Drama Academy and The Public Theatre Shakespeare Lab.
Purva currently lives in New York with her husband, the novelist and screenwriter David Andrew Stoler, and their six year old daughter, Sanaya, and two kittens Gigi & Yoshima. Purva loves scuba diving and traveling the world (though she hasn't done much of either since becoming a parent). Purva also teaches acting at the Anthony Meindl Acting Workshop.