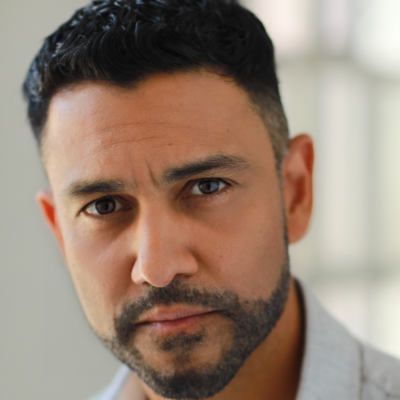 Sanjit DeSilva
Sanjit is a Broadway actor, Playwright, Director and proud husband and father who lives in Brooklyn. He received his M.F.A. from New York University's prestigious Graduate Acting Program, led by the acclaimed Zelda Fichandler and where he studied Acting under Master Teacher Ron Van Lieu. Sanjit has his BA from Washington University in St. Louis, where he double-majored in Biology and Performing Arts and minored in Film Studies. His film school started with an internship at Spike Lee's company 40 Acres and a Mule, PA work on Summer of Sam and Man on the Moon, and was honed on the set of the many TV shows and films he has had the privilege of being a part of as an actor.  He wrote, starred and co-directed the short film Time After and directed and produced the short film Tea Time. He's written four plays with Deepa Purohit, the latest, Crushed Earth, was commissioned by People's Light and his TV pilot, Lankan, was developed at the Orchard Project Episodic Lab. He is currently co-writing and developing the screenplay BK with Susan Kelechi Watson.
Sanjit's various stage credits include: Broadway: WarHorse (Tony-Award Best Play, Lincoln Center Theater). Off-Broadway:  Richard III (NYSF/Public Theater, Dir. Robert O'Hara), Merchant of Venice (TFANA, Dir. rAin Arbus), An Ordinary Muslim (NYTW, Dir. Jo Bonney), Troilus and Cressida (NYSF/Public Theater, Dir. Daniel Sullivan), Dry Powder (World Premiere, Public Theater, Dir. Thomas Kail, starring John Krasinski and Claire Danes, Lucille Lortel and Outer Critic's Circle Award Nominations for Best Featured Actor),  Awake and Sing (Public Theater/NAATCO), The Little Foxes (NYTW, Dir. Ivo Von Hove); A Midsummer Night's Dream (Hartford Stage, Dir. Lisa Peterson); Masked (DR2, Dir. Ami Dayan); Macbeth (NYSF/Public Theater, Dir. Moises Kaufman); Measure for Measure (NYSF/Public Theater, Dir. Mary Zimmerman).
Sanjit has been in several films such as Afterparty, The Girl is in Trouble (produced by Spike Lee), The Company Men (with Ben Affleck and Tommy Lee Jones), August (with Josh Hartnett), and the critically acclaimed Arranged.
His television credits include shows such as Inventing Anna, New Amsterdam, Evil, Tell Me A Story, Y: The Last Man, Blindspot, Time After Time, Madam Secretary, Blacklist, Elementary, High Maintenance, Homeland, Blue Bloods, The Good Wife, The Unusuals, I'm Paige Wilson (Pilot for CW, Dir. Rod Lurie), and every incarnation of Law&Order there has ever been!